AF is the resource organization for the CRZBNF (Climate Resilient Zero Budget Natural Farming) Programme in Ananthapuramu District, aiming to transform agriculture paradigm to be low-cost, climate resilient, chemical free, eco-regenerative and remunerative to farmers.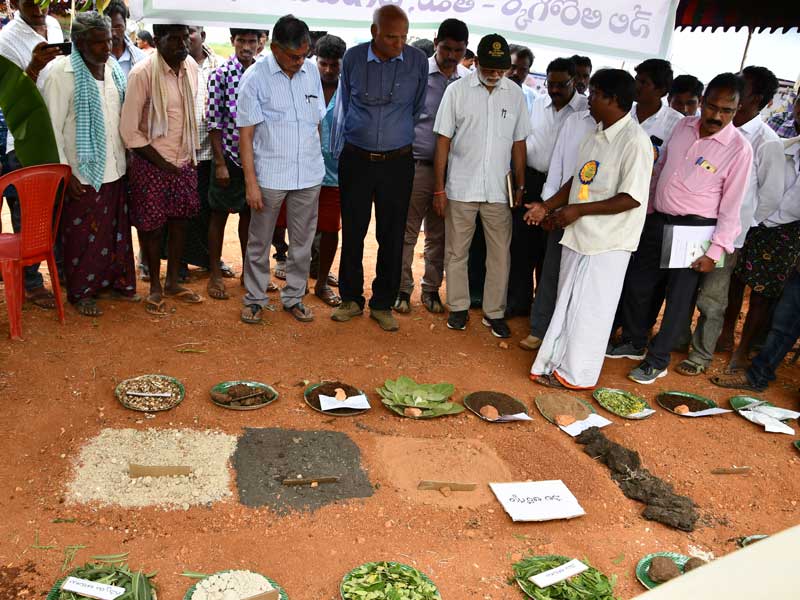 Building social capital with 3000 master farmers who train about 30,000 farmers on rain fed farming and drought management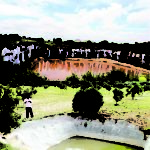 To diversify income opportunity like annual crops, tree crops, livestock, non-farm employment etc.
Increasing income of over 30,000 small and marginal farmer families through adoption of CRZBNF & Drought Mitigation practices with support & guidance from 3000 professionally trained & certified Master farmers
To stabilize livelihoods of rainfed small and marginal farmers by integration of CRZBNF and Drought Mitigation practices covering 156 farmer families in 3 model resource villages by promoting CRZBNF, drought mitigation technologies & Practices and diversified livelihoods.
To create a micro model of a healthy agro-ecology in Thammaiahdoddi village located in arid drought prone district of Anantapur and restore the agro-biodiversity.
Developing a team of trainers:
A team comprising 23 field trainers at cluster level and 5 resource persons at district level resource persons are trained on CRZBNF and drought mitigation technologies and practices that in turn provide support and training at cluster & district levels in developing master farmers and strengthening DPMU.
Developing master farmers:
The core objective of the program is to develop 3000 farmers who are passionate practitioners of CRZBNF practices and keen to provide necessary trainings and handholding support to at least 10 farmers per master farmer in following the CRZBNF and drought mitigation practices.
Developing resource villages:
AF has successfully demonstrated technologies and practices to protect dry land crops under low and erratic rain fall conditions on reasonable scale. These demonstrations proved to be highly beneficial in securing income from dry land farming under moderate drought conditions. It is very important to scale up these technologies and practices to reach rain-fed farmers who constitute about 70% of the total farmer families in the district. Hence AF proposes to develop resource villages with an objective of providing drought mitigation solutions at a visible scale which would be replicated in other parts of district.
Capacity building of DPMU:
AF provides resource support to the DPMU of Anantapur district in terms of sensitisation on CRZBNF initiative, planning & reviewing of the progress for reflection and improvisation and on developing a system for providing necessary extension services to the farmers who adopt CRZBNF practices.
Strengthening the FPOs with increased membership catering to the livelihood security needs of about 1500 families through provision of services for mitigating droughts, reducing the costs & risks and increasing the output and income
 

RNGO

Resource Villages

Focused Communities

Small and marginal farmer families

Single women farmers

Physically challenged

Landless – Tenant farmers (POP)

Rainfed small and marginal farmers (2-5 Acres)

Single women farmers

Physically challenged

No. of Families

30,000 small and marginal farmer

 

191

No. of Villages

94 villages

4 Resource villages

Mandals

26 mandals

3 mandals
Resource Village – Mandal
1.Khairevu(V) – Settur (M)
2. Bandameedapalli (V) & Thammaiah Doddi (V) – Kundurpi (M)
3. M.Cherlopalli (V) – Rapthadu (M)
FNGO Clusters
Settur Mandal
Chintharlapalli
Ayyagarlapalli
Mucharlapalli
Khairevu
Makodiki
Lakshmampalli
Cherlopalli
Bochupalli
Yerraborepalli
Kambalapalli
BCOs
Rayadurg
Kalyandurg
Atmakur
Settur
Kundurpi
Chilamathaur
Somandepalli
Madakasira
Talupula
Amadaguru
Kadiri
Tanakallu
Vajrakarur
Kuderu
Pamidi
Gooty
B.K.Samudram
Narpala
Tadipatri
Bathalapalli
Dharmavaram
Rapthadu
Bukkapatnam
C.K.Palli
Anantapur rural
Associate Organisations / Donors