Biodiversity Conserver Award-2021 On the occasion of International Biodiversity Day 2021 on 22nd May 2021
Felicitation to Covid19 Warriors in Anantapur by District Collector 13.11.2020
Certificate of Commendation as Covid19 Warrior awarded by the District Collector, Anantapur on Independence Day, 15.8.2020.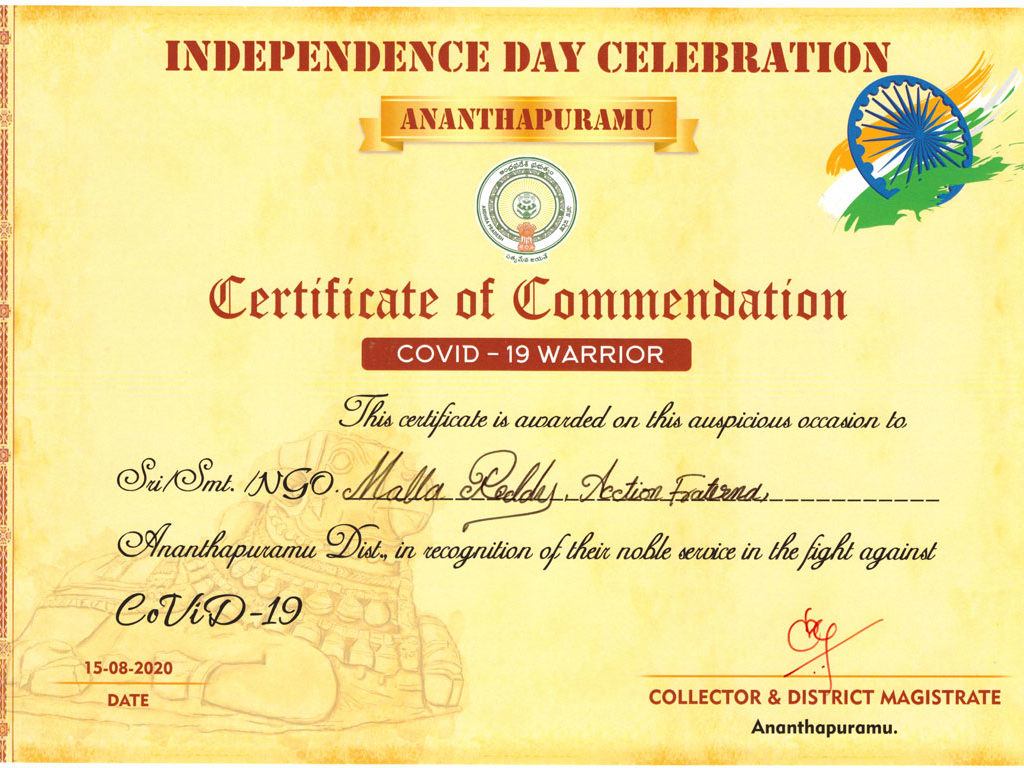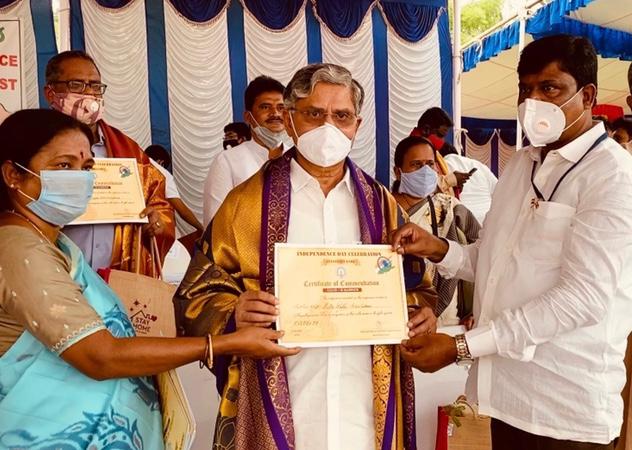 Durgabhai Deshmukh National Award for Excellence in Voluntary Sector awarded to Dr.Y.V.Malla Reddy, Director, Accion Fraterna Ecology Centre.
All India Council for Mass Education & Development (AICMED) has awarded to Dr. Y.V.Malla Reddy the Durgabhai Deshmukh National Award for Excellence in Voluntary Sector. The AICMED awards are given every year for individuals who have done commendable work in the fields of Voluntary Organisations, Public Administration, Public life, Social Service and in Education. 
The following persons were awarded this year for their exemplary work in their respective fields.
Administration – Gadicherla Hari Sarvothama Rao Award for Excellence in Administration : Sri V.Thirunavukkarasu, IFS, Chief Conservator of Forests (CCF) and Additional Director, Tamil Nadu Forest  Academy, Forest College Campus, Coimbatore – 641002. Tamil Nadu
Academic (Teaching, Training): Sir C.R. Reddy Award for Excellency in Academics: Prof. R. Rajan, Dept. of Lifelong Learning, Alagappa University, Karaikudi. Tami Nadu
Public Life: Sri Tanguturi Prakasam Panthulu Award for Excellence in Public Life: Dr. M. Abdul Lethif, Director Ambience Homoeopathy Clinic and Research Centre, Jawahar nagar Colony, near accountant general office, Calicut, Kerala.
Voluntary Sector: Smt. Dr. Durga Bai Deshmuk Award for excellence in Voluntary Sector:Dr.Y.V. Malla Reddy, Director, Accion Fraterna, Anantapuram. Andhra Pradesh
Social Service – Sri Mahatma Jyothi Rao Phooley Award for excellence in Social Service:Mrs. Dalavai Suseela, Secretory, Sri Sekthi Sanghatan, Tirupati. Andhra Pradesh
The Awards were presented to the Awardees on 20, April 2018 in a National Workshop organised by its South India Regional Council on Skill Development.  
The Award consisting of a citation, a certificate and a Medal was presented to them in a ceremony in the Senate Hall of S.V.University in the presence of Sri G. Laxminarayana, IAS., Director, AP Skill Development Council, Prof. Y.Narasimhulu, former Vice Chancellor Rayalaseema University, Kurnool, Dr. Rajasri Biswas, General Secretary, AICMED, Prof. Reddappa Reddy, Professor Emiritus & President of South India Regional Council of AICMED. 
Dr. Malla Reddy has been working in Rural Development Trust (RDT) and its associate organisation Accion Fraterna for the past 43 years.  His exemplary services included in the sectors of farmers welfare, drought mitigation, imparting employable skill to rural youth, policy advocacy and public awareness building.
Appreciation letter by Sri K.Narayan Naik, IPS., Superintendent of Police, Police Transport Organisation, Andhra Pradesh, Mangalagiri.
International Status Award for International Integration: Awarded by Global Achievers Foundation
Krishi Sahyog Samman National (Runner up) Award - 2011
INDIA AGRI AWARDS – 2011 by Mahindra & Mahindra awarded to AF Ecology Centre "Krishi Sahyog Samman (Runner up) National award. The Award carried a memento and a cash of 'Rs. 1 lakh.'
Excellence Award for National Social Activity 2012: Awarded by Global Achievers Foundation
Jala Mitra Award by Govt. of Andhra Pradesh
Government of Andhra Pradesh awarded "Jala Mitra" (Friend of Water) award to Accion Fraterna for it's outstanding work on rain water conservation. The Award carried a Gold Medal and a cheque of Rs. 50,000/- by Hon'ble Chief Minister of Andhra Pradesh Shri N.Chandra Babu Naidu, it was given to us for our outstanding work on Rain Water Conservation for the year 2002-03
AF Ecology Centre, its Director and several of its staff were given Certificates of Appreciation for their montorious service by the District Administration on the August 15 of Independence Day and on the Republic Day on 26th January.