We work towards achieving rural livelihood security through climate change adaptation and mitigation by promoting smart agricultural and non-agricultural interventions for social and gender equity.
AF has a strong culture of promoting and facilitating community based organisations which promotes a culture and practice of mutual co-operation, ownership of the project, collective problem solving and helps local leadership emerge.
Sasya Mitra Groups (SMGs)

Grama Sasya Mitra Samakhya (GSMS)

Mandal Sasya Mitra Samakhya (MSMS)

Apex Sasya Mitra Samakhya (ASMS)
Sasya Mitra literally translates as Friends of Plants (and trees). Sasya Mitra Groups are farmers' groups who plan, implement and monitor the project. There are 856 SMGs (Sasya Mitra Groups) functioning in 214 project villages. (In rest of the 16 villages Watershed Development Committees (WDCs) are functioning).
How SMG's work
Each SMG consists of 25 members representing the families, of which 13 are women members of the families. Members of each SMG elect a Convener and a Co-Convener. Convener is a woman by policy. Each village has two SMGs represented by rain fed farmers, one SMG by farmers with irrigated land and one SMG is by families which majorly depend on farm labour. The SMGs are federated at village level called GSMS. The GSMS are federated at mandal level called MSMS. And the MSMS are federated at project level called ASMS.
GSMS is the village level federation represented by Conveners and Co-Conveners of each SMG in the village. GSMS is the focal point in the village and has been actively involved in planning, implementation and monitoring of programme activities at village level. Each GSMS meets once a month. The major responsibilities of GSMS include allocation of incentive based activities to SMGs, monitoring the output and use of output, payment of incentives as per the guidelines given by AF. The management of the commonly owned equipment like sprayers, sprinklers etc., provided by AF is also the responsibility of the GSMS in each village. STOs (Socio Technical Organisers) facilitate these meetings.
There are 8 MSMSs functioning in 8 mandals in the project area. The MSMS meetings are facilitated at Mandal level by Area Team Leaders (ATLs) and Agriculture Extension Officers (AEOs). MSMS provides authentic feedback on the relevance and effectiveness of various activities and also suggested improvements in activities and their implementation. MSMS members also participate in participatory monitoring process conducted once during each cropping season. The teams of MSMS members visit randomly selected villages and monitor the progress and impact of project activities. Gradually they are being involved in planning, implementation and monitoring of activities at mandal level.
The MSMS played a key role in drawing the attention of Government Officials at Mandal level on the issues like timely supply of subsidy seeds distributed by the Government during contingency cropping in August & September 2015. They successfully negotiated and lobbied with the Officials of Department of Agriculture at mandal level and ensured timely supply of seed to the farmers to whom AF could not supply seed due to volume constraints. The MSMS members have also been playing an important role, particularly in organizing mandal level awareness campaigns such as Drought and Desertification Day, World Water Day, International Women's Day etc.
An Apex Sasya Mitra Samakhya (ASMS) has been constituted in 2014 with 15 leaders - 5 leaders from each of 8 MSMSs, 5 from WDC (Watershed Development Committees) and 5 progressive farmers who have a passion for Sustainable Agriculture.
The ASMS acts as an apex body of all farmers groups in the project. ASMS meets once in 3 months. It provides inputs in the planning process and provides feedback on the implementation of various programme activities and on the outcome and impact of program activities. Further, it also discusses policy gaps and makes representations to the Government authorities on policy issues.
ASMS played a vital role in bringing to the notice of Government, the usefulness of cement lined farm ponds in protecting the tree crops as well as annual crops. ASMS started to emerge as a strong forum for representing the issues of dry land farming and farmers to the Government Officials at the district level.
How AF works with the SMGs
AF has also been promoting a habit of thrift and mutual cooperation among the SMG members. A practice of mutual cooperation was promoted to reduce the cash transactions in agriculture activities and improve fraternity among the members. About 350 SMGs started small savings of Rs.50/- to Rs.100/- which was being used for lending small amounts of money to the needy members of the SMG. These small loans helped the members in meeting small but urgent expenses like the treatment of illnesses, paying children's school fees, purchase of grocery under PDS etc. So far, an amount of about Rs. 3.5 million is saved and revolved benefiting about 7,500 families every month.
Like the previous years, the SMGs selected deserving and eligible beneficiaries for incentive-based activities considering their eligibility, interest & ability to implement the activity. Gender & social equity was ensured during the selection by giving high priority to women, SC/ST/BC communities.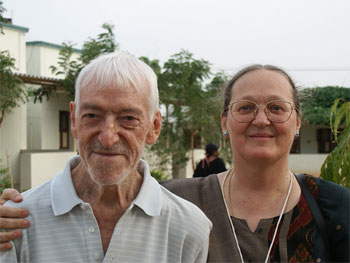 Father Vincent Ferrer & Mrs Anne Ferrer were the founders of Rural Development Trust (in 1969) and Accion Fraterna (in 1982). Accion Fraterna (AF) is a sister organization of Rural Development Trust (RDT). RDT is a well-known NGO in the country working on multisectoral development programmes with its main focus on dalits, tribals, women, the physically & mentally challenged and other backward and disadvantaged communities. Its programmes covers sectors like horticulture, agriculture, rainwater harvesting and rural infrastructure. Accion Fraterna focuses on sustainable agriculture, watershed development, non-farm employment, ecology and environmental issues.
With a history of over three decades AF has undergone several evolutions in its approaches and phases
<! ========= Cool Timeline Free 2.1 =========>