Anantapur District is one of the most backward districts in India.  It is essentially an arid, drought-prone and entirely agrarian economy.  In agriculture the main constraint is lack of irrigation facilities.  About 90% of 27.5 lakh acres under cultivation is rainfed and chronically drought-prone.  Further, the industrial development is just next to zero and no industrial employment opportunities. So the rural livelihoods are grossly inadequate for the rural population and the available livelihoods are also highly vulnerable.  The Anantapur challenge calls for a concerted effort by multiple organisations and actors such as Government, media, civil society organisations, private industries, research bodies, and educational institutions.  It calls for affirmative policy decisions and programmes from Government side.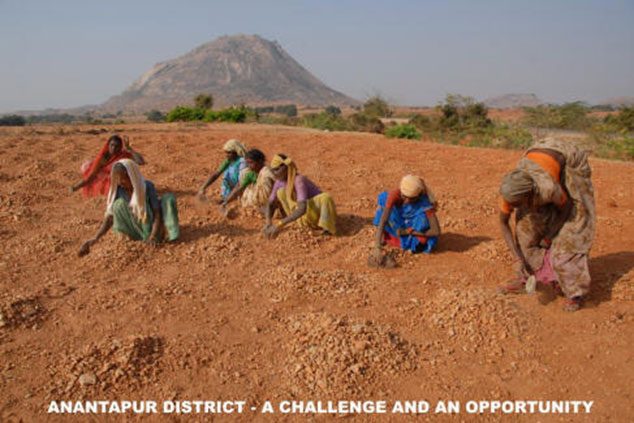 To think that NGOs or any one kind of organisation alone can address the challenge would be a fallacy. For eg. NGOs can never be equipped to address the issues of key policies and programmes like irrigation or industrialisation, which only Government can address. Nor NGOs can scale up the effective programmes to the desired level. However, the NGO can develop and demonstrate in the field the effective programmes, practices and systems that are sustainable and scalable and lobby with Government for their scaling up. NGOs, can also play a key role of catalysing, organise people, mobilise people's participation, participate and activate a constructive policy discourse, create convergence of actors, institutions and roles etc.
Predominance of 93% with Small and Marginal farmers (6.3 lakhs out of 7 lakhs farmers)
Predominance of 90% land under rainfed conditions (10 lakh ha., out of about 11 lakh ha.)
Chronically drought prone with lowest rainfall in South India with seven drought years out of every ten years due to low and erratic rainfall. There were only three normal crop years in the 15 years from 1999-2000 to 2015-16, as per government reports.
Parched, highly eroded red gravelly shallow soils with very poor in Soil Organic Matter (SOM) and poor moisture retention.
Arid landscape with lack of forest cover and vegetation across the district together with low and erratic rainfall resulting in semi-desertic conditions.
High pressure on groundwater resources and overexploitation leading to unsustainable and undependable irrigation even under 10% of cultivated area.
Non-viability of high-tech, high cost, chemical based mechanized agriculture due to small holdings and poverty.
Challenges Identified
Accion Fraterna Ecology Centre realises that it is not alone in addressing the gigantic problems of Anantapur.  The primary actor is the Government and supplementary roles need be payed by a multitude of other organisations and sectors like private sector, media, civil society organisations, political parties, intellectuals, technical experts, and progressive writers etc., Accion Fraterna Ecology Centre believes in working together with other organisations and the Government and in converging their relative strengths for development of Anantapur.
The following are the major challenges in Anantapur District.
Challenge 1: 
Drought Mitigation and Sustainable Agriculture is the biggest challenge:  
The biggest challenge in rural areas is the poverty and distress of about 7 lakh rainfed farmers & farm labour caused by very frequent droughts.  Their poverty and distress are manifested many by farmers abandoning agriculture, severe indebtedness (90% of the farmers are deeply indebted) unemployment, under employment, distress migration (over 4 lakh persons seasonally migrated in 2015-16) children's education is discontinued, marriages (particularly girls) post-poned, inability to pay for health needs etc. 
And in extreme cases the farmers resorting to suicides to escape from debts, distress and shame! An unprecedented large scale downward occupational mobility is currently happening from farmers to wage earners !
AF Ecology Centre is committed to develop and demonstrate the drought mitigation technologies practices and systems which are viable, sustainable and scalable.
Challenge 2:
Ensuring adequate and sustainable rural livelihood security is another big challenge: 
Mitigating drought and sustainable agriculture alone does not provide adequate livelihood for over 7 lakh farmers & farm labour as 90% of them are small and marginal farmers and landless.  They need additional and supplementary livelihoods.  So how to diversify and stabilise the rural livelihoods, so that their dependence singularly on drought-prone farming is supplemented adequately and livelihoods are secured adequately.
So, in addition to stabilising rainfed farming, off-farm & non-farm employment, skill-based employment, micro-enterprises agri-processing, value chain management etc would contribute to the diversification and stabilisation of rural livelihoods.
So, AF Ecology Centre is committed to promote diversified rural livelihoods, so that the rural households are able to earn enough for their needs on sustainable basis.
Challenge 3: 
Desertification & climate change are enhancing livelihood vulnerability: 
Accelerated desertification and climate change are further accentuating the vulnerability of rural livelihoods in general and rainfed farmers in particular.  So, in order to enhance livelihood security and containing desertification process is the big challenge.  So, AF Ecology Centre is committed to
Take up Climate Change Mitigation Project like renewable domestic biogas and generate carbon income to the farmers.
Develop and promote adaptation strategies for farmers to cope with increasing climate variability and climate change.
Take up watershed development, natural resources conservation and their sustainable management in order to combat desertification.
Challenge 4: 
Organising and enabling participation of unorganised, hierarchical and fragmented rural communities: 
The rural communities are unorganised and un-empowered. Consequently they are  a) unable to participate in their development process b) unable voice their concerns c) unable to make use of the available opportunities.  Gender discrimination and socio-economic inequity, hierarchical caste divisions are very common.  So the challenge is to organise them into  cohesive and empowered rural communities.  So in order to express themselves in cohesion participate effectively in development process and make use of the available opportunities, they need be organised into organisations and empowered. It is a gigantic social challenge. In democracy like ours, the people have to be empowered to play an active, constructive and responsible role in policy and programme formation for their development as well as for the development of the country.  AF Ecology Centre is committed to striving in organising and empowering the communities for their effective participation.
Challenge 5: 
Public openion building and policy advocacy: 
On all the issues explained above favourable policy development is a dynamic and continuous process involving multiple stakeholders.  The stakeholders have to work together to build awareness and build public openion so that the Governments respond to the public opinion and make policies that are people centred, pro-vulnerable and disadvantages, pro-environment etc.
AF is committed to work with other stake holders in bringing public awareness, public openion building and actively participate and generate policy discourse.